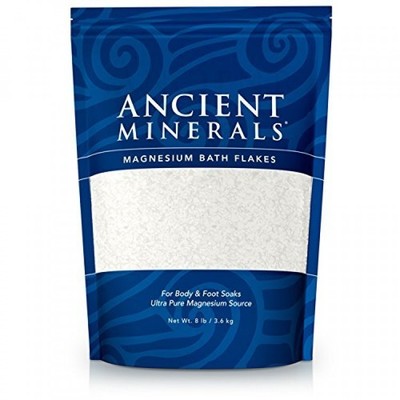 Magnesium is an important mineral for normal bone structure in the body. You can get magnesium from your diet (think foods high in fiber like whole grains, broccoli, green leafy vegetables, almonds, meats, chocolate, coffee and dairy products). At times supplements are used if magnesium levels drop too low. This is most common among women and the elderly. Sugar and caffine can deplete magnesium consumption as well. Certain diseases are linked to low magnesium levels such as:
high blood pressure
osteoporosis
diabetes
stroke
hereditary heart disease
Why Magnesium Is Important For Your Health
I have learned that when applied directly on the skin (the largest organ of the body) it is the most effective way to absorb magnesium. By using it this way magnesium can treat infected skin ulcers and speed up wound healing time. It can also improve sleep, migraine headaches, restless leg syndrome, help heart ailments and reduce stress. Who does not have stress in their lives! Magnesium can also lower pains such as lower back pain, sciatica, arthritic pain and helps calm anxiety.
Every cell in your body needs and relies on magnesium. It is very important for tooth, bone, joint and muscle pain. One of the best sources of magnesium is from the ocean. So if you are lucky enough to soak in the ocean water anywhere from 30 minutes to a few hours daily…go to it! For those who don't have that luxury, I will tell you how to make your very own Magnesium Oil. Your personal pain healer in a spray bottle 🙂
What You Need:
1/2 cup distilled water
1/2 cup magnesium flakes – I prefer this brand
Glass bowl
Glass or plastic spray bottle – get it here
How To Make Magnesium Oil Spray
(no actual oil involved)
Boil distilled water (distilled water will prolong the life of your spray)
Pour the boiling water over your magnesium flakes that are in the glass bowl
Stir until completely dissolved
A

fter magnesium oil is cooled pour into spray bottle
So easy and inexpensive! This spray should stay good at room temperature for up to 6 months.
How To Use Magnesium Oil
You can use this spray daily. It is best on fatty parts of the body or areas that you are experiencing pain. For example, the arms, legs, stomach, neck and back. You may feel a stinging sensation when you spray on the skin. That is harmless and will go away. If you prefer you can add water to dilute it a bit.
How Long To Leave It On
Feel free to leave the magnesium oil on the skin, or after about 1/2 an hour you can wash it off. Penetration occurs over time. The longer the magnesium is on the skin the greater the penetration. Well-hydrated skin is easier to penetrate than dry skin. It is best absorbed after a shower.
Very Important To Know
Too much magnesium can lower blood pressure so make sure your blood pressure is over 100 systolic (top number) and over 70 diastolic (bottom number).
According to Dr. Sircus magnesium chloride is one of the most powerful and purest medicinals in the world.
Ebay is an affiliate link of mine. If you should choose to make a purchase through my link I will be compensated a small amount at no cost to you. Thank you for your support!
Please follow and like us: